Individually and as communities the Holy Faith Sisters have been, over many years, growing in awareness of and concern for, the many issues facing the future of planet earth.  That awareness has been sharpened by Pope Francis' publication of  Laudato Si'.  Seven years on from the publication, the climate crisis and ecological destruction highlighted by Pope Francis remains as challenging an issue as ever.
To mark the anniversary of the document, the Margaret Aylward Centre is holding a number of events. These sessions are aimed at increasing awareness of Laudato Si', to identify its positive impact, the potential it holds especially at parish level, and to explore the ongoing challenges of engaging communities and wider society on this critical issue. 
Click on the images below to view some of the events at the Margaret Aylward Centre for Faith and Dialogue.
Laudato Si' week Read more here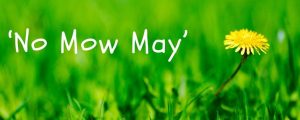 Forget wildflower bombs: 'No Mow May' is the way to help Ireland's bees. 
The All-Ireland Pollinator Plan advises doing nothing to our lawns this month. Read more

here