---
As we celebrate Lá Fhéile Bhríde or Imbolg (St. Brigid's Day) on the first day of February, marking the start of Spring, let us use this time for reflection and renewal. A day filled with traditions and customs that honour St Brigid's legacy, a woman known for her acts of kindness and charity. A day filled with communities connecting with Ireland's cultural heritage by creating St Brigid's crosses and sharing our food and drink with friends and family.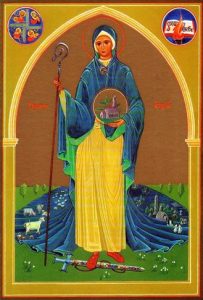 Icon of St. Brigid

– Sr. Aloysius McVeigh RS
Brigid
You were a woman of peace.
You brought harmony where there was conflict.
You brought light to the darkness.
You brought hope to the downcast.
May the mantle of your peace cover those who are troubled and anxious,
and may peace be firmly rooted in our hearts and in our world.
Inspire us to act justly and to reverence all God has made.
Brigid you were a voice for the wounded and the weary.
Strengthen what is weak within us
Calm us into a quietness that heals and listens.
May we grow each day into greater wholeness in mind, body and spirit.
Amen.
Author unknown (Solas Bhríde Community)